As San Diego's Mayor
Bob Filner entered counseling on Monday
, more women went public with accusations that the recently-elected Democrat had groped, harassed or propositioned them. The most recent accuser was
a nurse who had sought Filner's help in dealing with the VA
for a Marine wounded in Iraq.
Vocational nurse Michelle Tyler and U.S. Marine Katherine Ragazzino spoke Tuesday about a meeting with Filner in which the mayor implied that he would help solve Ragazzino's issue with the VA only if Tyler agreed to attend a public event with him or have dinner with him.

Ragazzino suffered a traumatic brain injury and PTSD while serving in Iraq.

The two women were meeting with Filner as a follow up to a previous meeting with then-Congressman Bob Filner two years ago.

In the mayor's office, Filner allegedly asked Ragazzino to leave the meeting and then began giving compliments to Tyler.

Tyler described a conversation with Filner where he asked if she were single and then asked her to meet with him on a personal basis.

"It was extremely disturbing to me that he made it very clear that his expectation was that his help for Katherine depended on my willingness to go to dinner with him, spend personal time with him and be seen in public with him, " Tyler said.

"I felt that his rubbing my arm and telling me help for Katherine was contingent on my going out with him was extremely inappropriate and unacceptable," Tyler said.

"I was not there looking for a date."
Filner had previously served as the ranking Democrat on the House Committee on Veteran's Affairs between 2007 and 2011. Tyler is the eleventh woman to accuse Filner of harassing or groping and the third in as many days.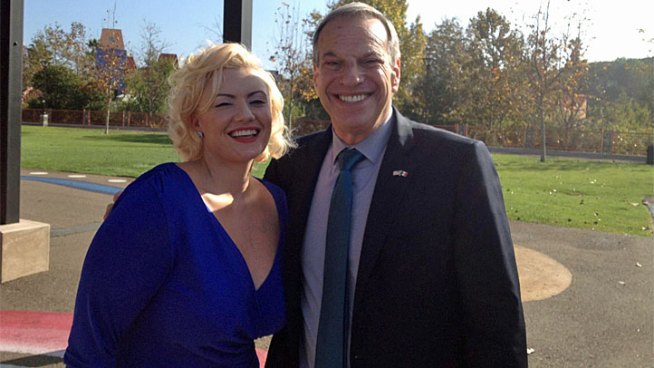 A Marilyn Monroe impersonator said
that Filner grabbed her backside while she was at fundraiser
late last year.
The incident allegedly occurred in December at a fundraiser to retire the 70-year-old Democrat's debt from the mayoral campaign.

"He grabbed me a little too tight, then proceeded to slide his hand down my arm and then did a little grab on my derriere," Emily Gilbert told Fox5 San Diego. "I didn't want to make a scene. There were kids around."

She tried to laugh it off but was embarrassed by the crude behavior, she told Fox5.

Gilbert's husband, a Marine officer, was furious when he heard of the incident.

Filner "needs to resign," he told Fox5.
Not long after Gilbert and her husband went public,
a tenth woman claimed to have had an unnerving encounter with the mayor at a La Jolla, CA church in June
where he grabbed her hands and said
"I just can't take my eyes off of you"
before asking her out. Later that day, she told a co-worker about the encounter before finding out that the mayor was already engaged.
Olga Diaz, a fellow Democrat and deputy mayor of the nearby city of Escondido, CA said that she also had a strange encounter with the mayor at an event where she was asked whether or not she had a husband.
Filner is being sued by former communications director Irene McCormack-Jackson for sexual harassment and at the end of July,
the San Diego city council announced that they were suing Filner
to recover any costs from a lawsuit or settlement against the mayor.