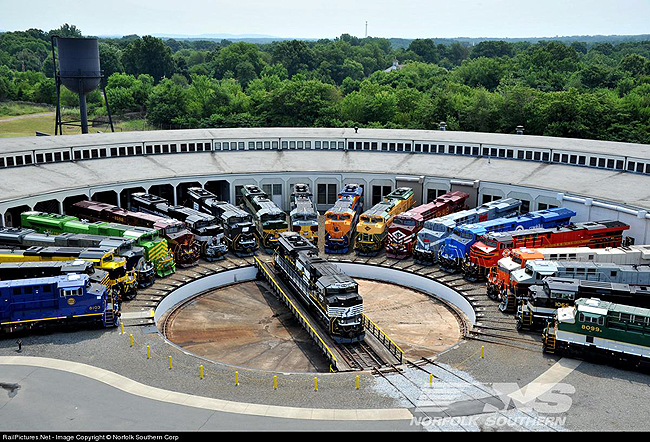 NORFOLK SOUTHERN
- There was more to the 30th anniversary celebration of Norfolk Southern than the 21st Century Steam program, as it turned out.
Although it had initially planned a total of 18 'heritage' units- new locomotives painted in the colors of various Norfolk Southern predecesors- the total was bumped up to 20 earlier this summer with the belated additon of the Penn Central and Monongehela as part of the heritage fleet.
While just about all of the heritage units were placed in revenue service after arriving from GE's Erie, PA plant of Progress Rail's EMD facility in Muncie, IN, in late June, all 20 units were sent to the North Carolina Transportation Museum at Spencer, NC for a one-of-a-kind 'family portrait' at the Museum's massive roundhouse.
In the above official Norfolk Southern image, the heritage units on display include Norfolk & Western ES44AC #8103, Nickel Plate ES44AC #8100, Virginian SD70ACe #1069, Wabash SD70ACe #1070, Illinois Terminal SD70ACe #1072, Pennsylvania #8102, New York Central #1066, Penn Central SD70ACe #1073, Erie SD70ACe #1068, Delaware Lackawana & Western SD70ACe #1074, Central Railroad of New Jersey SD70ACe #1071, Reading SD70ACe #1067, Lehigh Valley ES44AC #8104, Monongehela ES44AC #8025, Conrail ES44AC #8098, Norfolk Southern ES44AC #8114, Interstate ES44AC #8105, Wabash SD70ACe #1070, Savannah & Atlanta SD70ACe #1065 and Southern ES44AC #8098.
Norfolk Southern had also made it a point to have some of the heritage units accompany the steam-powered employee specials earlier in the summer with 'Nickel Plate' GE #8100 accompanying Nickel Plate #765 in Pennsylvania and 'Savannah & Atlanta' EMD #1065 accompanying the Southern #630 on trips through Tennessee and Virginia. Reportedly the Wabash #1070 will accompany the Fort Wayne Historical Society's big Nickel Plate Berkshire to St Louis this month for additional employee specials.
Although Union Pacific and Pan Am have both paid tribute to predecessor roads with specially painted locomotives, the size and scope of Norfolk Southern's heritage program is unprecedented. About half the roads honored in the NS Heritage program are due to the carrier's 1999 joint takeover of Consolidated Rail Corp- better known as Conrail- with CSX. Conrail was hastily formed from the remnants of the Penn Central, Erie Lackawana, Central Railroad of New Jersey, Reading and Lehigh Valley in 1976. Conrail also acquired a controlling interest in southwestern Pennsylvania coal hauler Monongahela in 1993.
A pair of Wheeling & Lake Erie SD40-2s dropping ballast in the yard adjacent to the MarkWest Liberty Mid-stream processing plant in Westland, PA on Aug 2nd, 2012. To access the facilities, the Wheeling & Lake Erie had to re-lay track over a 4½ stretch of former Montour Railroad track that was abandoned nearly 30 years ago and converted into a hiking trail.

Jason Capra

photo
WHEELING & LAKE ERIE
- A portion of a rural branchline in the southwestern corner of Pennsylvania that was abandoned and torn up in 1984 is once again seeing trains thanks to the ongoing natural gas bonanza from the Marcellus Shale.
A subsidiary of the Pittsburgh & Lake Erie, the Montour Railroad was down to 23 miles in the early 1980s when their last major shipper- the Westland Coal Mine- announced they were closing down in 1984. In the early 1990s, the Montour Trail Council was formed to convert much of the remaining Mountour Railroad right-of-way into a hiking trail in the Pittsburgh area.
In 2005, a natural gas well was drilled in rural Washington County, PA using a relatively new technology called hydrofracking where sand, water and certain chemicals are used to drill through layers of shale for natural gas. Although geologists had long believed there were abundant natural gas reserves in the Marcellus Shale outcropping- which stretches from Upstate New York to eastern Tennessee- accessing it in an economic manner was problematic until the hydrofracking process had been proven successful.
Although Denver-based MarkWest energy
[NYSE:
MWE
]
had completed a massive cryogenic processing plant in Westland, the natural gas byproducts were loaded up in tractor trailers that had to negotiate at least 8 miles of relatively narrow, 2-lane roads before reaching interstate 79 in nearby Cannonsburg, PA. But in 2011, MarkWest Liberty announced their plans to re-open a portion of the former Montour Railroad which would give the cryogenic facility access to the Wheeling and Lake Erie railroad's line between Mingo Jct, OH and the former Norfolk & Western Rook Yard in Pittsburgh as well as interchange with CSX, Norfolk Southern and multiple Genesee & Wyoming properties.
The first train to operate over the newly-opened line was a short ballast train in June powered by two W&LE SD40-2s. In August,
MarkWest Liberty began shipping byproducts by rail
out of the Westland yard for the first time.
Currently, the rail loading facility has the capability of loading 12 tankers, but plans are to expand the number of loading racks so that up to 24 tankers can be loaded per trip.

The gas is piped to the rail loading facility from the processing plant in pure product lines, mostly propane or butane. The butane will be transported to petrochemical refineries while most of the propane is shipped to the East Coast for home heating use. There also will be shipments of isobutane and natural gasoline, McHale said. The natural gasoline is expected to be shipped to Canada for processing. All of the byproducts markets are subject to negotiated contracts with the producers and, in Washington County, MarkWest processes natural gas exclusively for Range Resources.

While the train is currently making one trip a day with 50 tankers, eventually that will become four trips a day for a total of 200 tankers. Each rail tanker takes four trucks off the road.
As for the rails-to-trails portion, there is still a trail involved. Contractors for MarkWest Liberty also completed a parallel portion of the Montour Trail along the line, with the fence separating the hiking trail from the railroad line.
A pair of Columbus & Chatahoochee SD40-2s lead two more Genesee & Wyoming units southbound with a mixed freight along Brickyard Rd in Girard, AL on July 1st during the innagural run of the C&C.

Frank Orona
photo
GENESEE & WYOMING
- Shortly before the Genesee & Wyoming's
[NYSE- GWR]
purchase of competing shortline holding company Rail America
[NYSE- RA]
was announced, GWR started up operations on yet another Southeastern shortline.
Operations for the 26 mile Columbus and Chatahoochee began on July 1, 2012 on a former Norfolk Southern branch between Girard and Mahart, AL. The deal also includes trackage rights on Norfolk Southern between Girard, AL and Columbus, GA to reach the Norfolk Southern Yard and sister GWR road Georgia Southeastern.
Power for the line is a pair of SD40-2s in GWR's trademanrk orange and black. At its startup, the line is also borrowing power from sister railroads Chattooga and Chickamagua and The Bay Line in the form of 3 GP38s. The Columbus & Chatahoochee is the ninth GWR railroad to start up operations in the region- a number of the other lines include formerly independent shortlines and regionals such as the Georgia Central, Altanta & St Andrews Bay, Georgia Southwestern, Chatahoochee Industrial or Meridian & Bigbee.